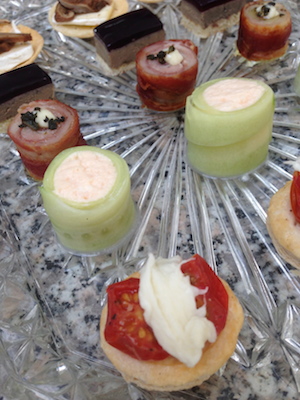 If you have a waiting time of more than an hour, you might need to have a think about canapés or nibbles for your guests.
The traditional way to fill a gap and ideal if you're on a budget like our locally sourced game pies, sausage rolls, cheese straws all served on a timber platter. Packets of local crisps in apple crates and mini apples displayed in a vintage tin bath.
Please allow £3 per guest for traditional nibbles.
But if you do want to wow your guest's please find our canapé list below.  We have an amazing chief who's canapés are mouth-wateringly delicious. They are priced at £1.50 each and it's recommended to allow, 3 to 4 canapés per guest.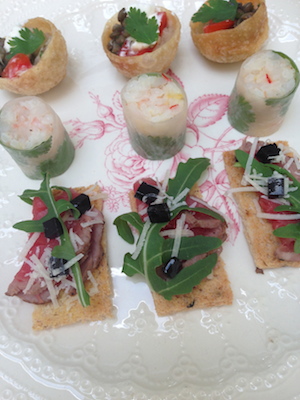 Carpaccio of veal, pigeon, duck, lamb, beef or venison (with rocket salad, parmesan, balsamic jelly)
Miniature fish & chips – tartare sauce, avruga caviar, gaufrette potatoes
Arancini (crispy risotto balls stuffed with vegetables or a rich meat ragu)
Smoked guinea fowl, thyme mayonnaise, raisin bread
Suffolk gold tartlet, Williams pear & walnut
Duck liver/foie gras parfait, cassis jelly, brioche
Lamb loin, salsa verde, pea fritter, pea shoots
Smoked wild mushroom & copys cloud croustade
Corn-fed chicken, sage & pancetta roulade
Scallop tartare, cauliflower beignets, avruga caviar
Lemon & Dijon cured salmon, caper berries & dill
Brochette of tiger prawns, chilli & lemon
Black treacle bacon & poached quail egg crostini
Croque monsieur or Madam
Mozzarella & cherry tomato tarte fine
Rump steak in yellow mustard seeds
Courgette, goats cheese & mustard pickles on truffle oil fried bread
Red pepper & smoked paprika croquettes
Smoked eel, horseradish and lemon thyme croquettes
Potted: Suffolk crab, lemon butter & chilli – brown shrimps, nutmeg butter & Suffolk wholemeal toast – shin of Red Poll beef & horseradish foam – Gressingham duck with a tangerine and radish salad
Soup: Peking duck consomme – smoked haddock vichysoisse – gazpacho – butternut squash & crumbled goats cheese – cauliflower cheese – smokey tomato – caramelised onion