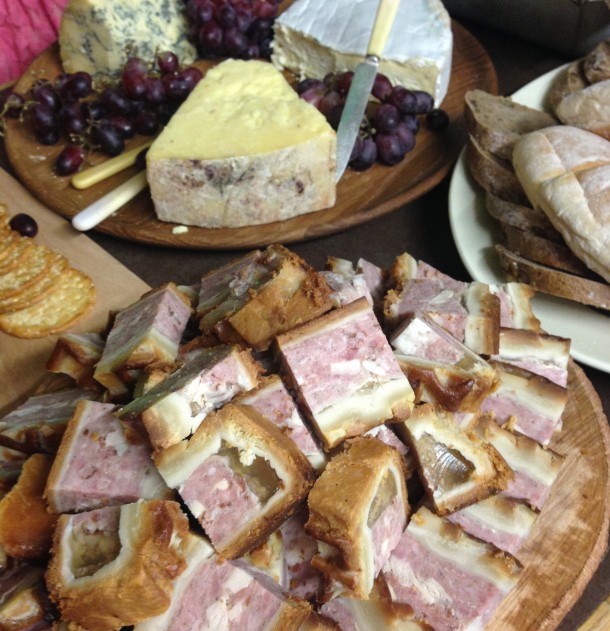 Good Traditional Fayre
If you're looking for a deliciously simple idea for your wedding breakfast, why not try our hearty Ploughman's sharing platter.
All of our ingredients are locally sourced or even grown here on our farm.
Locally Sourced
We have the choice of over 1,000 incredible cheeses, so while the standard Cheddar, Stilton and Brie may not wet your appetite. You can choose from a huge variety, tailored to your tastebuds. We recommended going to your local Farmers Markets or Delis and enjoy a tasting session with fresh figs, crackers and Port.
We make our own breads, pastries and pickles and farm various salad items and eggs.
Keith, our local butcher ensures that we have the best cuts of meat, for every occasion.
And the heartiest pies this side of the Isle, are crafted locally by a neighbouring farm.
Have a look at our menu below and you will be sure to find a combination of scrumptious ideas that will leave your guests feeling happy and replete. Whether your friends and family are vegetarian or of a more carnivorous nature… there truly is something for everyone.
Menu
Home Baked Breads Rye, Farmhouse, Granary, Sun-dried Tomato, Cheese Twist and Onion Rolls.
Hock of Ham
Cheeses (standard selection) Local Cheddars, Stiltons and Brie
Plenty of Pickles and chutneys
Pies Game, Sweet Chilli, Huntsman, Gala Pork Pies
Vegetarian Options Seasonal Quiches
Pastries Homemade Sausage Rolls, Cheese Straws
Fresh Salads
Prices
The cost per person is usually £17 which can include the following selection per table 3 x styles of bread, 1 x Hock of Ham or Roast Beef, 3 x types of cheese, 1 x pie, cheese straws, sausage rolls, 1 x variety of pickle (e.g. Pickled Onions), Homemade Chutney / Branston Pickle, Fresh Salad, Hard Boiled or Dingly Dell Scotch Eggs.
Our Ploughman's menu can be tailored to suit your needs and obviously be reduced or increased in price accordingly.
Served with white china, slates, trunk boards and vintage glass bowls.