Hire our beautiful Vintage China to add charm to your special occasion
Perfect for weddings, tea parties, birthdays, hospitality events and photo shoots

For up to 240 people
Teacups & saucers, tea & coffee pots, tea plates, milk jugs, sugar bowls, glasses and cutlery , cake stands, sandwich plates, platters and tureens, table linen, bunting, lanterns, candle holders and place names
We'd be happy to source any other special items that will help to make your event truly memorable.
Delivery throughout Suffolk, Norfolk, Essex Cambridge and London.
Hire time  3 to 4 days
Contact us for more details take a look at the sample settings below or download more details including more pictures, prices and terms & conditions.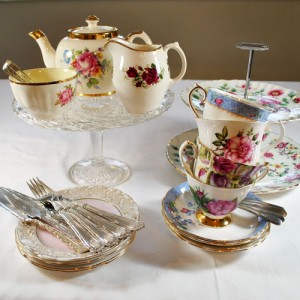 Tea Party
£4 per setting
cup, saucer & tea spoon, tea plate, cake fork & butter knife
and … for every 4 people
Milk jug, sugar bowl & tongs, teapot, one 2 tiered cake stand, one tiered glass cake stand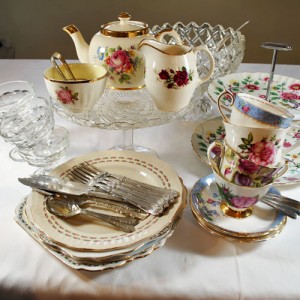 High Tea
£5 per setting
25cm plate, knife & fork, cup, saucer & tea spoon, glass dessert dish & spoon
and … for every 4 people
Milk jug, sugar bowl & tongs, teapot, one 2 tiered cake stand, one tiered glass cake stand and serving bowl & spoon