A Workshop With Tom Keane
After scrumptious pastries for breakfast, we settled into our Edwardian chairs set amongst period furniture on the middle floor of Chiswick Auctions.
Tom Keane started the seminar talking about the history of British furniture and how it evolved during times of war and peace, available timber and generally how tastes changed during different reigns.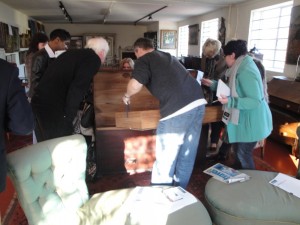 Next we were asked to look at the furniture around the room and to pick out the most valuable and the oldest pieces. The most valuable being a Grand Tour specimen marble topped table anything up to £30,000 (Tom loves to talk about The European Tour) and the oldest being an oak coffer commonly used 350 years ago.  Chest of drawers were only designed around 1680.  Tom showed us how to date furniture, for example a deep groove along the side of a drawer is a good indication that it's an old piece and beading within the drawer liner means it's usually a 19th century piece. Tom gave us lots of information on dating furniture and this alone was worth the journey to Chiswick.
After a delicious Italian buffet for lunch and a glass of wine, Tom gave us a very amusing talk about auction houses. We were all fascinated to hear all about dealer rings and the game playing amongst them all.  Tom relaying his experiences over the years had the room in raptures of laughter.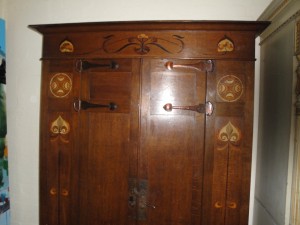 To end the day we had a private tour around the auction house, a go on the rostrum and a few more very funny stories. I had a great day learning and laughing with Tom Keane and already planning to go to the next event which I understand will be all about ceramics and silver.