Vintage by Hemmingway 2011
Today on the Vintage seen you can buy your tickets, for the award-winning Vintage Festival at Southbank Centre from 29 – 31 July 2011 as part of the Festival of Britain 60th anniversary celebrations.
Set up last year by Wayne and Gerardine Hemingway, the festival will run for three days and nights, celebrating music, fashion, film, art, dance, design and cultural lineages from the 1920s to the 1980s that have made Britain the world's creative and cultural hotbed.
The Royal Festival Hall will be transformed into a multi-venue Vintage playground. Ticket holders will be able to enjoy 10 Vintage nightclubs, including last year's favourites The Soul Casino, Let It Rock, The Torch and Leisure Lounge alongside catwalk shows, live performances, exclusive DJ sets, dance and craft workshops, makeovers, as well as themed bars and restaurants. Each evening the Royal Festival Hall Auditorium will host a one-off, themed Vintage Revue, a concert featuring some of the world's greatest performers coming together to create a one-off genre-specific revue.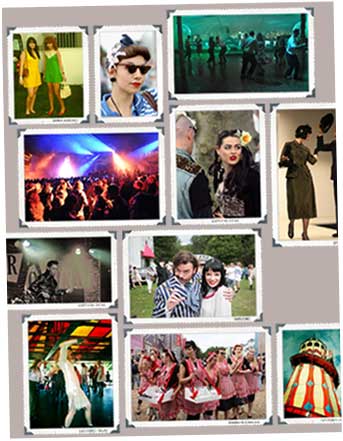 Southbank Centre's outside spaces will become a Vintage 'wonderland', featuring the enormous Vintage Marketplace, a gathering of the finest purveyors of vintage clothes, accessories, mid-century modern homewares, records and music memorabilia and up-cycled ephemera. There will also be pop-up catwalk shows paying homage to British fashion icons, 'Best in Show' parades, hair and make-up parlours, a vintage funfair, food stalls, tea parties, boat parties, film, creative workshops and live music and sound systems across the site.
Enjoy …