A backyard wedding in London
It's not often when you get the chance to work with some of your lovely twitter friends. In the summer (yes, I know very bad at blogging lately-but now I have some amazing weddings to show you) so…  I worked with the passionate florist   Clare from love blooms, Laura McCluskey a beautiful photographer, who I've worked with before and the talented Katie from Golden Whisk. I first meet these lovely ladies at the Essex Vintage Wedding Fair and to have a chance to be together was very exciting.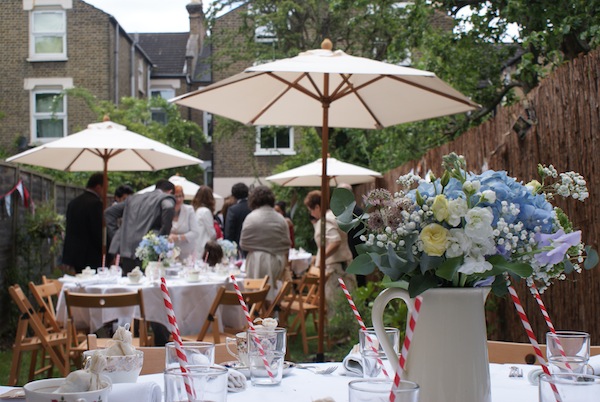 So deep in the heart of South East London, Clare had dropped her beautiful wild flower displays in vintage cream ceramic jugs. I draped our new style red bunting along the 80ft fence. Made a peg line of photographs on the other. Decked the 18ft wide trellis at the bottom with ivy and flowers tied with rafia. The tables were set with white linen and our lovely vintage china. There was lime cordial in 1950's glass jugs and red candy strip straws in glasses. Kamran the groom had sauced some lovely hand finished napkin ties.
We had an old fashioned WI style cake table, with the usual victoria sponge, mini chocolate cakes, iced biscuits and cupcakes. A guest had made a traditional pink Polish cake as Aleks the bride was Polish. We had some macaroons for colour, all finnished off with vintage glass cake stands and silver servers.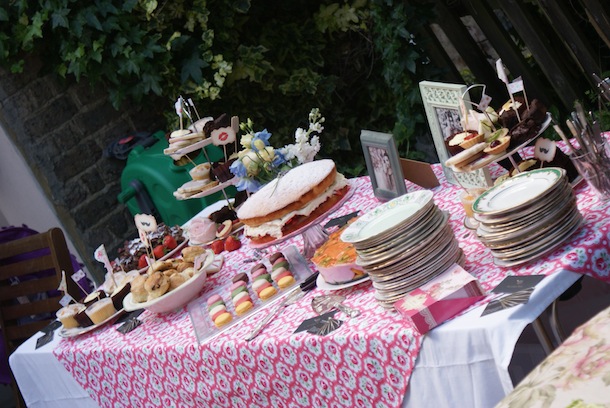 When the buffet curry and the cakes had been eaten. I had chance to talk to the newly weds as it was just an afternoon affair and what a lovely couple they are. There wedding was on a budget, but for all the frills, the lovely speeches and great friends, It was one of the most special weddings I had been at, true love…