Delicious Coffee Cupcakes Recipe
Here is a simple Coffee and Walnut cupcake sponge recipe.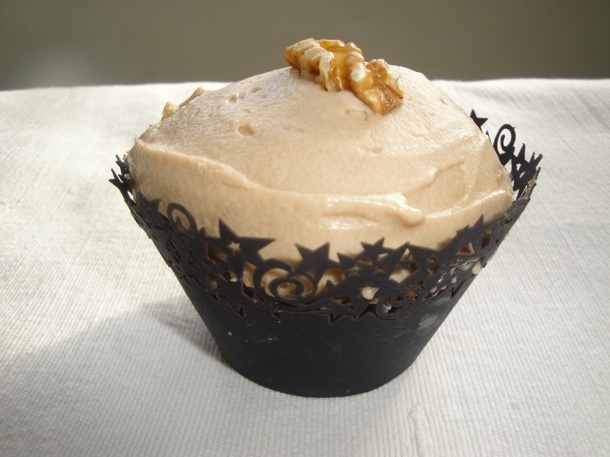 250g unsalted butter
250g brown sugar
4 eggs
250g plain flour
10g baking powder
4 teaspoons instant coffee in a little water
150g walnut pieces
Method
Cream the butter and sugar until light and fluffy
Add the eggs one at a time, beating in-between each egg.
Sieve the flour and baking powder together then fold into your cake batter.
Add the walnuts and coffee mix
Prepare tin with 12 to 15 cupcake cases
Place in middle shelf of oven at 160c check after 20 mins, test with a knife in the centre, if it comes out clean the cup cakes are ready, if there is batter on it bake for a further 8 mins.
The cakes should be a light golden brown in colour and firm but spring to touch, if you have a fan assisted, bake it at 155c.
Buttercream
250g butter
200g icing sugar
1 tea spoon vanilla essence or the seeds from one vanilla pod
20g cornflour
2 teaspoons of milk
4 teaspoons instant coffee in a little water
12 to 15 walnut halves
Method
Cream your butter and icing sugar and cornflour together with the vanilla flavour, coffee mix and milk.
Start at a slow speed so the sugar doesn't fly everywhere, then give it a burst for about 2 mins until light and fluffy
Pipe or smooth the butter cream onto each cake and no licking your fingers
Place a walnut half on each cake
Next is to invite your friends over for a delicious cake, coffee and chat …