Vintage at Goodwood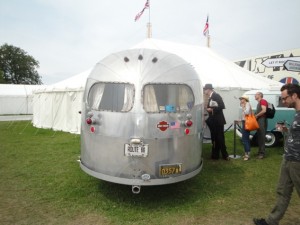 What a jolly good time we all had at Goodwood, in it's first year. The festival was set up by Wayne Hemmingway, celebrating 5 decades of British cool. It would of been great to arrive in a vintage car. Dressed in our 60's dresses we first of all had a make up lesson in the Benefit tent, love the eyeliner and their hot red lipstick. Then off for a look around the Bonhams auction, which was full of retro toys, mod scooters, an ape costume from Planet Of The Apes and a stunning Air Stream caravan.
We listened to Kid Creole and the Coconuts on the main stage and then enjoyed fish and chips sitting in the field. The children had a great time modelling clay and playing with the Mecanno cages.
After a go on the Waltzers and Dodgems, I drooled over the vintage caravans. I love the simplicity of them and the good old fashioned fun that takes you away from the modern day trappings.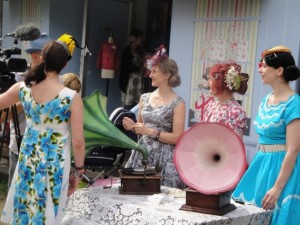 The stalls where full of amazing clothes and lots of retro finds. We walked through the dance hall, where the food looked amazing. This is where the hard core vintage vultures where hanging out doing the swing.
Next year we would love to have a stand at Vintage and travel in a vintage car.