March Hare Collective Christmas Fair
It's that time of year again and I'm sure you'll be looking for something unique for your loved ones …
If your close to Bury St Edmunds today, your in for a big surprise. The lovely ladies of March Hare Collective have booked The Apex in Bury St Edmunds for this Saturday. They have their biggest list of 28 local artisans to date exhibiting.
OUTSIDE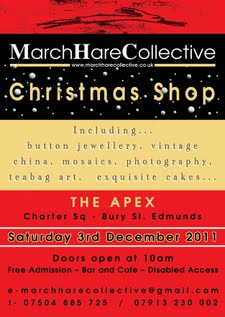 Jacquie Rojo
FOYER
Gary Thamesart
Jason Lewis Prints
Lizzytish Jewellery
Serendipity Street Vintage
Claire McKenna Photography
Rio B Button Jewellery
Papoosi
Mark Hewitt Lionhouse Wood
Marion Raynor Food
Jennifer Pryke Koloni
UPSTAIRS
Alicia Mortlock Knitwear
Caroline Davidson Fabrics
Red Sparrow Crochet
Jane Marshall Beaded Garden
Suffolk Pink Vintage
Julie Atkins Hand Made Foods
Lynette Teabag Art
Pomegranate and Bird Fabrics
Vicky Ryall Heirloom
Sue Rinaldi Soobaloo
Chrissy Sturgess Confectionary
Wendy Knipe Photo Name Frame
Marion Stephenson Jumbleberry
Jocelyn Ceramics
Heidi Rojo Felt
Tim White Boxes
Vintage Charm Jewellery
It would be lovely if you could find the time to pop over and support our local artisans. I'll be there just for today as I have a school reunion tonight in Manchester.